With 4.5 fasteners per square meter of roofing sheet, washers play a significant role in any roofing project.
EPDM is the short form of Ethylene Propylene Diene Monomer. The American Society for Testing and Material (ASTM) classifies this material as a M class Polymer. Ethylene and Propylene oil and natural gas are organic building blocks of EPDM. When combined with Diene, they form a large molecule that is very stable when exposed to sunlight, heat, ozone(UV) and moisture. EPDM It is well suited for sealing due to its resistance to water, chlorinated water, dilute acids, alkaline, ozone and oxidizing chemicals. It has a negligible absorption rate, is not susceptible to swelling and can withstand temperatures up to 100C.
These qualities of the EPDM makes it the first choice for the leading fastener manufacturers. At REALM we recommend that the consumers ensure that the washer they purchase complies with industry standards and supports the life and integrity of the roofing system. The right balance of hardened, tear strength and compression performance determine how well a cut washer assembles, compresses and resists the tearing affects of sward, and keeps the fastener sealed throughout its life on the roof.
Why WASHERS matter?
Because washers are small and relatively inexpensive, their importance in a roofing project is sometimes overlooked. But poor quality washers can result in enormous cost if it is badly designed and made of inferior material. Here's why:
• The washer is vital in maintaining the integrity of the roofing system.
• There are four vital components to a good washer - design, material, conductivity and traceability.
• Design - Early breakdown of the washers will result in, at best, the replacement of all fasteners and seals across the entire roof, and at worst, considerable water damage to the building.
• Material - The secret of the DEKS washer is its premium EPDM (Ethylene Propylene Diene Monomer) blended with UV and Ozone stabilizers, curatives and processing oils. The blend is critical to sealing, UV resistance, life span and conductivity.
• Conductivity – according to the Senior Principal Research Engineer, BHP RESEARCH -"We have found that DEKS black EPDM washers exhibit exceptional levels of performance and provide complete compatibility with BHP Colour board and Zincalume coated steels. A controlled level of carbon in this product provides superior mechanical properties and superior overall durability."
• Traceability - DEKS premium range of washers are always marked with the DEKS name or a registered feature such as the blue line.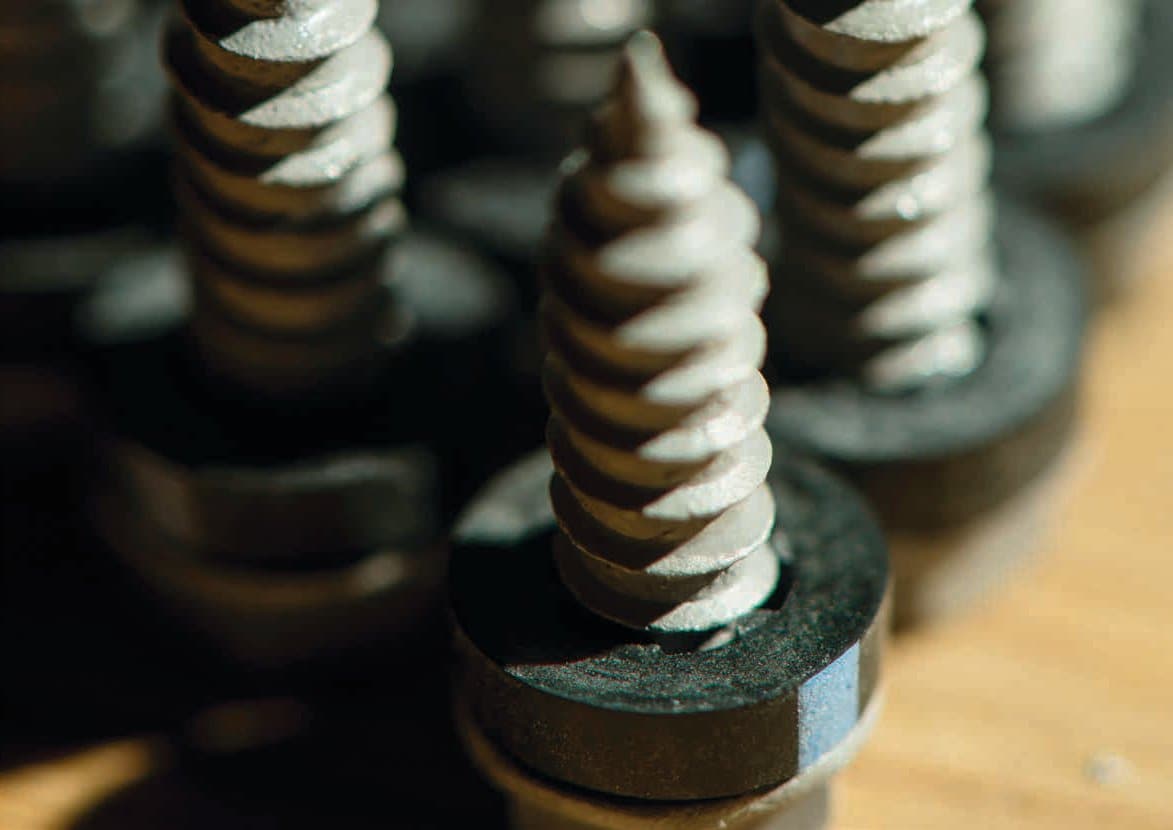 MULTI PURPOSE CUT WASHERS
• Registered Desks Blue line marking
Full traceability thanks to the desks blue line.
• Superior quality EPDM
Made to last.
• Perfect for automatic assembly
Minimize downtime.
• UV and Ozone resistant
Maximum life span in harsh environment.
• Non-conductive
Low carbon prevents corrosion problems.
POLYCARBONATE WASHERS
• Engineered for precision
Consistent fit, consistent performance.
• Seals tight-watertight
Efficient sealing between fastener and surface every time.
METAL BONDED WASHERS
• A metal face for extra strength
EPDM encapsulates a metal support for greater strength.
• Double seal design
Unique double seal acts under head and against the sheet surface
• 12 mm to 32 mm size range
A size to suit every fastener and roof system.
• Engineered load distribution
Designed to minimize distortion
• Aggressive environment
Manufactured in Aluminium and stainless steel for ultimate corrosion resistance.